Upwork vs. Gig Village
Operating out of California, Upwork is a platform where freelancers and businesses connect with each other. Freelancers can easily find work while businesses can find their ideal talents. Formerly known as Elance-oDesk before the merger in 2013, it was rebranded as Upwork in 2015. As such, it has an interesting startup story.
It was in 1998 when Srini Anumolu and Beerud Sheth created a freelance marketplace called Elance. Its concept allowed freelancers to bid on jobs posted by businesses and employers. However, instead of paying for what bids they win, workers get paid.
Friends Odysseas Tsatalos and Stratis Karamanlakis wanted to work together on a web project but lived thousands of miles away from each other. The friends created oDesk, which was originally intended as a staffing agency, but was eventually turned into a digital marketplace for remote workers.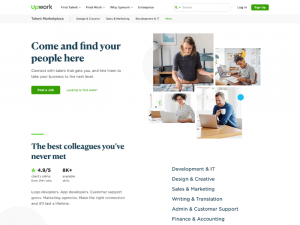 In December 2013, Elance and oDesk came into a merger agreement and Upwork was born two years later as Upwork Global Inc. Its mission was to provide freelancers and talents with opportunities to improve their lives.
By 2017, Upwork's users numbered to more or less 14 million, which are scattered across 180 countries. Its 2019 revenue reportedly reached the $300 million mark. As of 2020, the company is under new management and several changes were implemented, including the purging of 1.8 million users. These developments helped put Upwork in the front row, as one of the best digital platforms for freelancers.
Gig Village is a US-based startup founded by Phelan Riessen. It acts as a platform for virtual assistants so they can connect with companies that might be interested in their skills.
Founded in May 2020, Gig Village may be fairly new in the freelance market, but it has been slowly making its mark in the industry. Its team of virtual assistants has helped a lot of businesses and employers improve their efficiency and increase productivity. Gig Village's pre-trained VAs expertly take care of repetitive tasks that often eat up time that businesses can use for other equally essential responsibilities.
One of the benefits Gig Village users enjoy is the freedom to choose the plan they need. These plans are customizable and personalized, so employers can hire just one VA or go for a team of virtual assistants. Likewise, Gig Village's talent pool is vast and diverse. As such, businesses will have an easy time finding what they are looking for.
Gig Village is headquartered in San Diego, California but has a global business and talent reach.
Upwork vs. Gig Village: Similarities and Differences
The most obvious characteristic that Upwork and Gig Village share is its concept and goal of providing a comprehensive online platform for businesses and freelancers to connect with each other and find what they need. Both companies offer virtual assistance and other freelance services to a wide variety of clients in different parts of the world. However, the two are quite different in several ways.
The Process
To become an Upwork user, one needs to first create an account (which is free). There are two account options: the client and the freelancer account.
Users who want to sign up for an enterprise or business plan are asked to fill up a different form. Enterprise users can ask for a demo before signing up.
The next step is to answer several questions that can help complete the user profile. After providing all the necessary information, it's time to choose a billing method. Payments can be sent via PayPal, credit card, or bank accounts.
Once done with the initial steps, a user can start posting or looking for jobs. Posts are shared throughout the Upwork network, so they are viewed by everyone using the online talent platform.
Gig Village also requires its users to sign up to the platform for free. Businesses are then asked to choose a package according to their requirements. Then they can start looking for their ideal worker.
Tasks and projects are posted to workers. Businesses get regular updates about each of their postings.
Freelance Services Offered
Upwork offers work and talents focused on several fields:
Design and Creative
Development and IT
Writing and Translation
Sales and Marketing
Finance and Accounting
Admin and Customer Support
Gig Village's vast pool of freelancers specializes in the following fields or industries:
General Support Assistance
Research
Content Writing
Social Media Management
Accounting Assistance
Transcription Services Assistance
Plans and Packages
While Upwork offers a basic free plan, users can also choose to avail of paid subscriptions that fall under the Upwork Business and Upwork Enterprise categories. Each plan can be personalized according to users' preferences. Details of the plans are as follows:
The Basic plan is FREE and comes with one freelancer, built-in collaboration tools, and unlimited proposals. Plus plans are worth $49.99 per month and come with everything in the basic plan in addition to dedicated account managers, project tracking tools, and tailored search results.
Businesses in need of a comprehensive solution can choose the Business plan, which goes for $499 a month. All the features included in the Plus plan are in the package, along with a dedicated advisors team, company insights and trends reporting, and consolidated invoicing and billing.
The Upwork Enterprise plan is a complete solution that's available for an unspecified amount. Businesses need to get in touch with Upwork for a demo before a customized plan and fee is created. The package includes all the Business features plus a dedicated account executive, managed/project-based solutions, customized onboarding process, and compliance and worker classification.
Meanwhile, Gig Village users have three packages to choose from: Starter, Get It Done, and Full Throttle.
The Starter package is available for a $175 per month fee and comes with one virtual assistant and one to three task types a month. Service is good for five hours a week.
Get It Done sells for $485 a month for 20 hours a week. It comes with one to two Vas and one to five tasks every month.
The Full Throttle Gig Village package has a monthly fee of $750 for 40 hours a week. Users get the services of one to three virtual assistants and one to 10 task types per month.
Users can also choose from one of Gig Village's Hour Block subscriptions. Those who pick this option pay a one-time fee based on the hour block of their choice.
10-HOUR: $95 for one VA
20-HOUR: $150 for one VA
50-HOUR: $360 for one to two Vas
100-HOUR: $635 for one to three Vas
500-HOUR: $3,025 for one to four Vas
Which Online Freelance/Talent Platform to Choose
Determining the digital freelance or talent platform your business needs is not easy. You cannot simply base your decision on how much a plan or package costs, or on which one sounds good to you. There are several factors to consider, the foremost of which is the kind of service or services you or your business needs. Does it have all the features you are looking for? Is feedback from other users generally positive?
Are you willing to work with a well-meaning startup, or do you prefer to do business with a more established company? Would you like to hire trained, vetted virtual assistants?
Get in touch with us now and we'll let you in on a secret – we know which one you should choose!
Explore Talent
Gig Village has a wide array of talented virtual assistants. Check out and find one here Explore Talent.
Want to find a virtual assistant faster? We are here to help you find the right talent for you. Don't hesitate to email us at info@gigvillage.com. We will get back to you immediately.