It's THANKSGIVING and you deserve a treat!
When was the last time you free up your time for what matters to you? Give yourself a break and delegate the work.
Now is the time to get a dedicated virtual assistant
An exclusive Black Friday Deal is specially wrapped for you!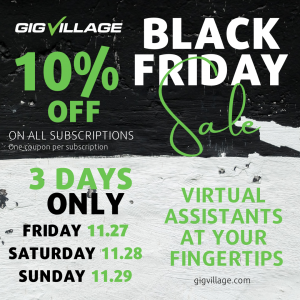 The Gig Village team is looking forward to giving you the opportunity to work with our highly vetted virtual assistants. Once you get the chance to work with one of them, we guarantee that it will be a game-changer for your business.
We offer this 10% off deal to all the subscriptions that we have for 3 DAYS ONLY. It is for a limited period of time. And we promise this is a deal you will NOT want to miss!
Sign up for a Gig Village plan of your choice. We know that every business focuses on tasks which commensurate with its niche. And the amount of time that you need varies depending on how busy you are. That's why we made these plans just for you.
In every plan that you subscribe to, we have the Gig Village Packages. In each category, you will see a premade package listed. We want to cater to what you really want. Those packages are listed to give you an overview of what to expect and they are customizable.
Our Gig Village team is more than happy to get your business to the next level.